Windows Cloud Hosting Has Arrived!
Fast & Dependable Windows Cloud Hosting Options Meet Storm On Demand's Unrivaled Performance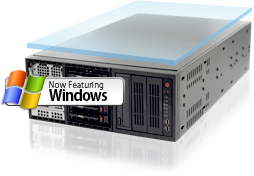 We have once again re-engineered Storm On Demand® and the result is a freshly minted option to deploy Windows 2008 R2 SP1 images! This is currently available in our Fully Managed, Core Managed and Self-Managed packages and comes with all of the Storm On Demand® features that have helped us gain our reputation as the Cloud Hosting industry's premier option for High Performance solutions.
Supported Software:
Windows 2008 64-bit
Parallels Plesk
Available Regions:
US West (Arizona)
US Central (MIchigan)
As ASP and .NET scripts, integrated functionality characteristics and enhanced development of searchable databases have all gained in popularity, Windows has gathered momentum amongst our users. Storm On Demand's performance and feature-rich platform provides these new Windows Cloud Hosting users a robust and smooth functioning experience from the smallest applications to the largest enterprise solutions. This was made possible by our extensive re-engineering and commitment to answer the growing demand for Windows with a seamless integration into our existing Storm On Demand® platform and the popular options and features it boasts:
Advanced Networking & Load Balancing Made Easy
Industry-leading Management Console
Cloud Attached Firewalls
Private Networking
Load Balancing
Deploy from Images
Save Images for Future Deployment
Deploy Windows and Linux Servers with the same platform
Automated Server Deployment on Demand
With Hourly Pay-As-You-Go Billing, You Only Pay for What You Use
Multiple Geographic Regions Available
Scale from Storm Server, to Storm SSD or Storm Bare Metal on Demand
More Options Being Added by the Day
Our Windows platform has been completely engineered in-house, and is sure to please anyone looking to get the highest performance experience out of Windows Cloud Hosting. Please contact a Sales Engineer if you need help deploying a server or if you have any questions. You can reach us at 1.877.330.7760 option 2 or via email: sales@stormondemand.com. You can also chat with us at StormOnDemand.com.