Storm On Demand Unveils New Regions!
Experience High Performance & Enhanced Security With New Arizona Location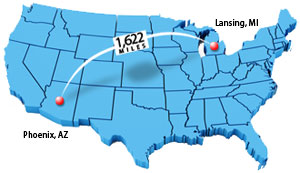 We're proud to announce that Storm On Demand has expanded to feature two separate geographical regions. In the new regions, US Central (headquartered in Michigan) and US West (headquartered in Arizona), Storm will now offer its users true Geographic Redundancy and higher performance features while reducing latency!
Benefits of Storm on Demand Regions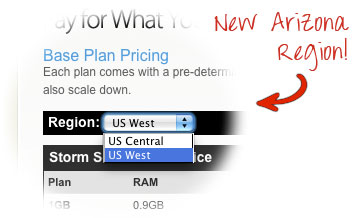 Locate Data Closer to End-User to reduce Latency
Back-up Data with "Hot Standby Site"
True Geographic Redundancy
Clone Easily Between Regions
Improved Performance
The unveiling of our Western Region is a huge coup for users seeking high performance cloud hosting with the option of Geographic Redundancy. Already achieving some of the loftiest benchmarks for performance in the cloud hosting industry, Storm On Demand's highly connected network will now allow users to experience a significant performance upgrade on top of our already impressive marks. Simply put, the shorter physical distance your data has to travel to from its location to your end users, the faster your enterprise runs.
Geographic Redundancy
In addition to the performance upgrades detailed above, Storm On Demand users will now be able to use the host's separate regions to create Geographic Redundancy with a "hot standby site." Similar to fail-over clustering, a hot standby site allows your operation to move to a fully functional standby system should your primary system fail. Although both Storm On Demand Regions are located in Disaster Neutral areas of the United States, this type of redundancy is ideal for when unexpected situations arise that can't be mitigated by simply employing local redundancy systems.

READ ALSO: Storm On Demand Featuring New Operating Systems!